Equipment, tools and utensils for every day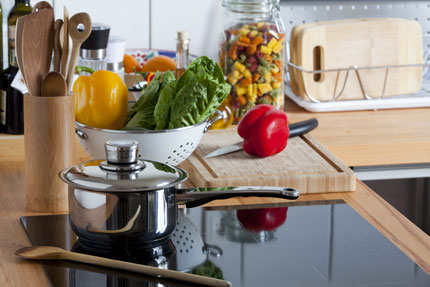 Do you enjoy cooking and baking? Then Backmann24 is the right place for you. To make your culinary project a success, you should be able to rely on high-quality kitchen utensils. We offer you a large selection of kitchen utensils for almost every task. With us you will find everything that belongs in a well-equipped kitchen and lets your heart beat faster. Convince yourself of the excellent quality of our modern products, which also surprise with fair prices. Our promise to you: With the right equipment, kitchen work is even more fun!
The must-haves for cooking and baking
Knives
Both when cooking and baking, high-quality, sharp kitchen knives are essential to easily process or portion food. For this reason, you should never skimp on these cooking utensils. Dull blades and worn-down handles can spoil the pleasure of cooking. Since chopping vegetables and meat have different demands on a knife then, for example, bread or cakes, we offer knives for different purposes and foods. They differ in shape, blade, and size. Whether practical household knives, bread knives or cake knives with a two-sided blade – choose the ones that suit your needs.
Kitchen containers and measuring cups
Containers and measuring cups are also part of every basic kitchen equipment. They are not only a practical aid for preparing food but also ideal for storing supplies and leftovers. Whether as a salad, stirring, serving or dessert bowl – the kitchen helpers in both the stainless steel and plastic versions look great in the kitchen and on the table! There is certainly a suitable container for every requirement. Measuring cups are also part of the basic equipment in a well-equipped kitchen. Thanks to different scales, you are flexible in the choice of your recipes – litres, millilitres or even American cups can be measured accurately with the measuring cups in our range.
Strainers and sieves
The magic word in cooking, and especially baking, is precision. Accurate work is usually decisive whether a dish or baked product is successful or not. Above all, flour and sugar should be sifted before they are put into the mixing bowl. We offer sieves for a wide range of applications. From rather coarse kitchen sieves to finely meshed icing sugar sieves, we have everything. Discover our tried and tested sieves as well as our range of strainers. They allow you to drain pasta, rice, vegetables, fruit, and salad conveniently in the sink – without the food touching the sink!
Baking tins and suitable tools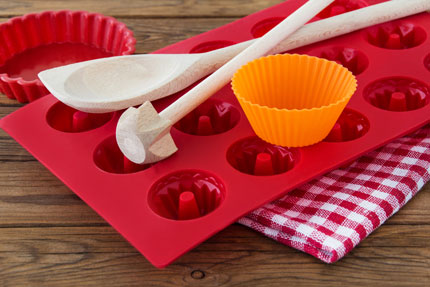 Passionate hobby bakers, as well as experienced professional bakers, can look forward to a large selection of different baking tins and practical accessories. Whether you want to bake decorative cupcakes, make chocolate pralines, or cut out cookies – we have various shapes for small and large delicacies! It does not matter whether you are already a professional baker or just want to turn your home kitchen into a bakery! Also discover our versatile baking tools such as mixing spoons, dough scrapers, measuring cups and baking brushes. So nothing stands in the way of your desired project.
Kitchen textiles
As splashes of grease, other stains and handling hot pots and pans in the kitchen cannot be avoided, you should wear high-quality kitchen textiles to protect your clothes from getting dirty. With our cooking aprons you prevent your everyday clothes from becoming soiled while cooking or baking. Even more important are gloves and potholders, which provide the necessary safety in the kitchen. This way you can safely remove casseroles and cake tins as well as the baking tray from the oven without risk of injury!
Tips for the right kitchen equipment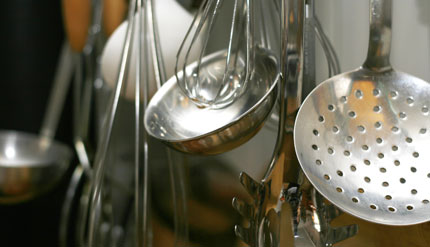 Kitchen accessories not only facilitate numerous work steps, but also make everyday kitchen life more pleasant and safer. For this reason, the quality of baking and cooking utensils plays an important role. Therefore, pay attention to the following features when buying:
The material should be of high quality as well as neutral in taste, colourfast and possibly acid-resistant.
The kitchen utensils should be well processed so that no sharp edges or cracks form even after many years of use.
Make sure that the kitchen gadgets are easy to clean – preferably in the dishwasher.
The desired tools should be handy and not too heavy, so that they are easy to carry and handle.
Backmann24 – the professional supplier for every kitchen
For every cooking and baking project Backmann24 has the right utensil to make your work easier. We focus on high quality and durable materials. From the passionate hobby chef and baker to professional gastronomy, we equip your kitchen from top to bottom, always at good prices. Let your imagination run wild and cook, bake, and decorate as you please.